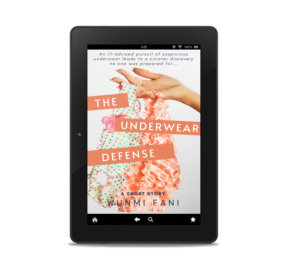 Kiki's determination to trace the source of a panty she discovered in her fiancé's luggage leads to an ill advised expedition followed by a sinister discovery.
Rated 5 out of 5 on Amazon, this story is the first from For Better, For Worse or Maybe Not: A Take on Courtships, Relationships & Almost Weddings.
It's currently available on Kindle. However, you don't need a Kindle device to read a Kindle book. Learn more HERE.
A man misled into hiding a million dollars from his fiancee. A woman who interprets a fortune teller much too literally. An eager lady whose clueless man won't propose after months of in your face hinting. A serial cheater who can't choose between three women despite an inheritance on the line.
These are a few of the stories in For Better, For Worse or Maybe Not; a collection of the edge of your seat narratives that explores deceit, dishonesty, greediness and putting the cart before the horse in relationships and almost weddings. Learn more HERE.
"This is hilarious! A very humorous way of dealing with complex issues in romantic relationships. I love the writing style of the author, it is enthralling and lucid!" 
"Oh My Goodness!!! This is up there with the very best in the world. What a captivating story, gorgeously told. The style is smooth and intriguing. I can't wait for the rest of the series. I am definitely going to pre-order. Keep it coming Wunmi Fani. Red hot it is!"
"Good for kicking back on a beach and reading a suspenseful short story. I enjoyed her style of writing and was curious from the start. Well done!"